Source: www.medscape.com
Author: Fran Lowry
In a subset of patients with human papillomavirus (HPV)-related oropharyngeal cancer, the goal of achieving a "cure" is a realistic one, even in patients who have limited distant metastases, a prospective study has shown.
Of the patients with HPV-positive oropharyngeal cancer and distant metastases, 10% survived more than 2 years after intensive treatment, which the researchers defined as a cure.
The study was presented at the 5th International Conference on Innovative Approaches in Head and Neck Oncology (ICHNO) in Nice, France.
The research was praised by Jean Bourhis, MD, head of the Department of Radiation Oncology at Centre Hospitalier Université Vaudois in Lucerne, Switzerland, and cochair of the ICHNO conference scientific committee.
"This important piece of research adds substantially to what we know about the role and the importance of the human papillomavirus in oropharyngeal cancers and gives real hope of improvement in both diagnosis and treatment to those who are affected by the condition," he said in a statement.
This study, from a world-leading group of head and neck cancer experts, is very interesting, and related to relevant clinical and interdisciplinary questions," said Daniel Zips, MD, professor of radiation oncology at the University of Tübingen in Germany.
"HPV status is also important for the management of metastatic disease," he told Medscape Medical News.
He agrees that for some patients with HPV-positive oropharyngeal cancer, using the researchers' definition, a cure is possible.
"I also agree that the results from this study might begin to change the view of this disease and provide some hope for patients and their families," Dr Zips explained.
Distant Metastases Are Main Form of Failure
"The majority of patients with HPV-related oropharyngeal cancer can be cured, but distant metastasis can occur in about 15% of patients. In fact, distant metastasis has become the main form of failure for this patient population," lead author Sophie Huang, a radiation therapist and assistant professor at the University of Toronto. Dr Huang was a physician in China but is an MRT(T) — a radiation therapist — in Canada.
"When distant metastasis occurs, it is generally viewed as incurable disease. However, long-term survival after distant metastasis has been observed in nasopharyngeal cancer patients, which is another viral-related head and neck cancer, associated with the Epstein–Barr virus. Also, long-term survival in HPV-related OPC patients with distant metastasis has also been reported, but anecdotally," Dr Huang told Medscape Medical News. "Are these just miracles? And would more miracles be found if we were able to understand how they happen?"
Dr Huang and her colleagues established a prospective database in which they collected data on enough patients to allow them to study how distant metastasis is manifested, how the cancer behaves after distant metastasis, and whether there are any factors that influence survival after distant metastasis.
"We felt that the answers to these questions would help us tailor surveillance strategies for the early detection of distant metastasis and explore optimal management algorithms to improve outcomes," she explained.
Prospective Follow-up of Patients
The team evaluated 1238 consecutive oropharyngeal cancer patients treated at the Princess Margaret Cancer Centre in Toronto from 2000 to 2011. They identified 88 patients with HPV-related cancer and 54 with smoking-related cancer who were HPV-negative, all with distant metastases.
They assessed the pace of the manifestation of the distant metastases, characteristics, and patient survival, and identified factors that might predict longer survival.
The proportion of patients with distant metastases was similar in the two groups. However, metastases associated with HPV-positive oropharyngeal cancer had a later onset, different characteristics, and longer survival than those associated with HPV-negative oropharyngeal cancer.
Specifically, more than 94% of metastases occurred in the first 2 years after treatment in HPV-negative patients, whereas only a quarter occurred in HPV-positive cancers. In the HPV-positive group, some occurred after 5 years.
"This observation indicates that HPV-related OPC patients who are disease-free for 2 years are not out of the woods. A longer surveillance period for HPV-related OPC patients is needed to detect, and hopefully cure, distant metastases," Dr Huang said.
Additionally, the researchers found two phenotypes of distant metastases in HPV-positive patients.
The disseminating phenotype is aggressive and spreads to multiple organs in a short period of time. This phenotype was found in 55% of the HPV-positive group but in 0% of the HPV-negative group.
The indolent phenotype is characterized by a few lesions growing at a slow pace, and manifesting as oligometastasis, with five or fewer lesions. In patients with metastases in a single organ, this phenotype was found in 24% of the HPV-positive group and in 26% of the HPV-negative group.
The lung was the most common site for distant metastasis in both groups.
"This indolent phenotype has longer survival and might be curable," Dr Huang reported.
More HPV-positive than HPV-negative patients were specifically treated for distant metastasis (60% vs 31%)
More HPV-positive patients with distant metastases than HPV-negative patients survived to 3 years (25% vs 15%; P = .01).
"The survival advantage in HPV-positive patients is due to a number of factors. The cancer is more sensitive to radiotherapy and chemotherapy, patients tend to be younger by about 10 years, and they have fewer other health problems, including those caused by smoking. This allows them to receive the more aggressive treatment necessary to eradicate metastatic disease," Dr Huang explained.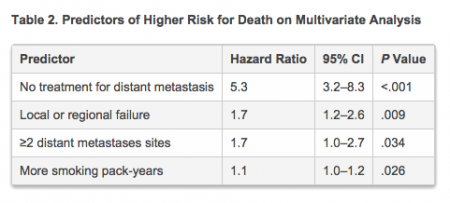 "This research shows that metastatic HPV-positive patients who receive active treatment can survive considerably longer. One of the reasons patients with metastatic disease fail to receive aggressive treatment is due to the physician and patient perception that this is an incurable state. We hope these results will motivate researchers to optimize management strategies for these patients," Dr Huang said.
"The first distant metastasis site is mostly in the chest region," she noted. In fact, most of the cured patients had lung metastasis. "Computed tomography of the thorax for the early detection of distant metastases" might enhance the cure rate for this disease, she added.
Future studies should look for ways to identify patients at initial presentation who are at high risk for distant metastasis, and which type of distant metastasis will develop.
"We know there is a degree of correlation between the initial stage and the risk of distant metastasis, but we did not find a strong relationship between this stage and the type of metastasis," Dr Huang reported. "The intensity of cigarette smoking in the years prior to the time of diagnosis is a possible factor. Being able to identify such relationships could be a huge help in deciding appropriate treatment at an early stage."
Note:
1. Dr Bourhis, Dr Zips, Dr Huang, have disclosed no relevant financial relationships.
2. 5th International Conference on Innovative Approaches in Head and Neck Oncology (ICHNO): Abstract OC-044. Presented February 13, 2015.