Source:
Author:
The increasing cases of oral cancer have pushed the Cancer Research UK to ask dentists to look for cancer related symptoms in their patients. By checking the mouth properly, dentists can gauge whether or not a person is prone of developing mouth cancer.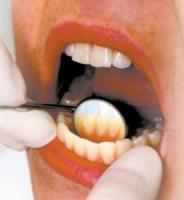 Mouth cancer can be lethal if timely treatment isn't provided to the patients. Smoking and heavy drinking could be one of the reasons behind causing mouth cancer. Chewing tobacco is yet again contributing to mouth cancer. While examining the patients, the dentists have been advised to look for cancer contributing factors.
It is estimated that by 2030 there will be an increase in the number of mouth cancer patients. People under the age group of 50 years are growing becoming victim of mouth cancer. Oral sex is yet another factor that could lead to mouth cancer.
People need to be made aware about the growing incidences of mouth cancer so that innocent lives could be saved. Avoiding heavy drinking, smoke and unhygienic oral sex can help in preventing mouth cancer. Besides, dentists can also help in saving lives by detecting mouth cancer earlier through regular checkups. It is hoped that the dentists will take serious note of the recommendations.