10/19/2003
Cleveland
PRNewswire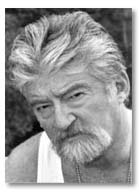 Eszterhas Takes Aim at Smoking in Movies: 'Don't Let People Like Me Kill You' U.S. Surgeon General Richard H. Carmona Commends 'Join Joe' Campaign
— Screenwriter Joe Eszterhas has written
and filmed a 30-second public service announcement to be shown in movie theaters which warns audiences "not to get suckered into smoking byHollywood."
"I glamorized smoking in my movies," Eszterhas says on screen to moviegoers. "Then I got throat cancer. Maybe that's my punishment. Please, don't let people like me kill you."
The announcement, filmed on a Hollywood soundstage, funded by The Cleveland Clinic and directed by American History X director, Tony Kaye, will be shown on more than 30 screens in the Cleveland area, where Eszterhas lives. Jonathan Forman, president of Cleveland Cinemas, said, "I only hope other exhibitors nationwide will have the courage to take this vital message to the masses of people who are killing themselves with tobacco."
"We're working around the clock with Joe and Jon Forman to get this message into as many theaters as possible across America," said Angela Calman, chief communications officer for The Cleveland Clinic Foundation. "Smoking is the leading cause of preventable death in the United States, resulting in more than 440,000 deaths each year. When it comes to smoking, quitters are winners," said U.S. Surgeon General Richard H. Carmona. "I commend the American Cancer Society's Great American Smokeout and the 'Join Joe' Eszterhas campaign for helping people to quit smoking and begin living longer, healthier lives."
"Hollywood simply has to confront its complicity in the deaths of millions of smokers," Eszterhas said. "For the past year and a half, I have been engaged in a struggle both through the media and behind the scenes, to ban smoking in films. I have gotten nowhere. By filming this public service announcement, I have decided to go in another direction: to warn the public, minutes before a movie begins, about the glamorization of smoking which that movie might contain. I am hoping that my cancer and my voice will neutralize the pro-smoking message in the movie."
Eszterhas's films — which include Flashdance, Jagged Edge and Basic Instinct — have grossed more than a billion dollars at the box office. He is the first major Hollywood figure to criticize his own role in the glamorization of smoking on screen and to call for a voluntary industry-wide ban of smoking in films. Eszterhas's anti-smoking-in-movies message is one of three public service announcements he filmed recently. The other messages are aimed at young people: "Cancer isn't cool," Eszterhas says in another message. "Cancer isn't hip or rock and roll. Cancer hurts, cancer makes you cry, and then it kills you." All three spots are being sent by The Cleveland Clinic to 300 local television stations across the country. WKYC, the NBC affiliate in Cleveland, will be the first station in the country to run the PSA's beginning Wednesday, Nov. 19. Portions of the three spots also will be shown this week on television news programs and websites like WebMD. The public service announcements are the beginning of a larger Cleveland
Clinic Foundation initiative called "Join Joe." The "Join Joe" campaign is an effort to provide support for those seeking help quitting smoking through a non-commercial website that will link people to a variety of free programs and information. The site also will be a call to action for smokers to "Join Joe" in quitting tobacco. It will invite people to join Joe and provide a forum for public support of their actions. Eszterhas will kick off the "Join Joe" campaign with a one-hour internet chat in partnership with WebMD at noon EST, Thursday, Nov. 20, as part of the Great American Smokeout. To Join Joe, log on to http://www.clevelandclinic.org/joinjoe.
Doctors at The Cleveland Clinic, a not-for-profit academic medical center ranked as one of the nation's best hospitals, will take part in the chat, too. Eszterhas was successfully treated at The Cleveland Clinic for his throat cancer, which is now in remission. "Joe Eszterhas's story is truly a medical miracle, a Hollywood ending," said Dr. Marshall Strome, chairman of The Cleveland Clinic's Department
Otolaryngology and Communicative Disorders. "He woke up and changed his life, and he's committed to changing yours, too. I have the utmost respect for him."
In January, Eszterhas will host a weekly one-hour anti-smoking program to be called "Join Joe" on WebMD, one of the most frequented websites in the world. "Quitting smoking," Eszterhas said, "was the most difficult thing I've ever done. I started smoking when I was 12 years old and was a four-pack-a-day smoker at the end. I was obviously terribly addicted. I know that if I could stop, others can. I have the greatest compassion in the world for smokers — and the greatest loathing in the world for tobacco companies and their allies." "As soon as you quit smoking, your circulation improves and carbon monoxide levels in your blood start declining," said Carmona. "Your pulse rate and blood pressure, which are abnormally high while smoking, immediately start returning to normal. One year after quitting, your risk of heart disease is cut in half, and over the next several years it continues to decrease. It's never to late to quit."
In a New York Times op-ed last year, Eszterhas wrote, "A cigarette in the hands of a Hollywood star on screen is a gun aimed at a 12 or 14 year old. The gun will go off when that kid is an adult. We in Hollywood know the gun will go off, yet we hide behind a smoke screen of phrases like 'creative freedom' and 'artistic expression.' Those lofty words are lies.