Source: www.azonano.com
Author: Cameron Chai
A research study by Jeffrey Myers from the University of Texas MD Anderson Cancer Center and James Tour from the Rice University has reported that a combination of carbon nanoparticles and existing drugs has the capability to improve head-and-neck cancer treatment, particularly when coupled with radiation therapy.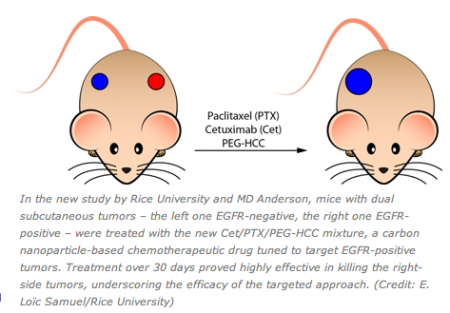 The novel technique encapsulates chemotherapeutic drugs using carbon nanoparticles, which sequester the drugs until their delivery into the targeted cancer cells, opening the door to develop customized therapies based on the requirements of individual patients.
The researchers have developed a simple technique to mix Cetuximab, a targeting agent, and paclitaxel, a hydrophobic active chemotherapy agent marketed as Taxol, with hydrophilic carbon clusters that are functionalized with polyethylene glycol or PEG-HCC. According to the researchers, Cetuximab, paclitaxel and PEG-HCC ingredients combine easily and form a water-soluble compound that targets tumors more effectively than Taxol, while eliminating the toxic effects of Cremophor EL and paclitaxel on neighboring healthy cells.
Cremophor EL is a carrier based on castor oil that makes the hydrophobic paclitaxel into a water-soluble compound and delivers it to patients intravenously. Tour commented that the novel technique utilizes a very small quantity of chemotherapy drug. Myers informed that tests involving the use of Cetuximab, paclitaxel and PEG-HCC ingredients and radiation therapy on mice demonstrated a substantial increase in destroying tumors. The researchers' hypothesis is paclitaxel detects the tumor cells to the radiation effects and Cetuximab and PEG-HCC augment the delivery of paclitaxel into the cancer cells, Myers explained.
Tour stated that the functionalized carbon clusters are nontoxic. Myers commented that this research has demonstrated the principle that carbon nanoparticles are capable of linking a chemotherapeutic drug non-covalently with a targeting antibody, which can supply the drug to target-specific cancer cells. This principle can be applied for delivering other drugs to other kinds of cells via target-specific cell surface receptors as a way of augmenting the therapeutic ratio, Myers concluded.