12/28/2006
Costa Mesa, CA
Michelle Thompson
Route2outsmartcancer.typepad.com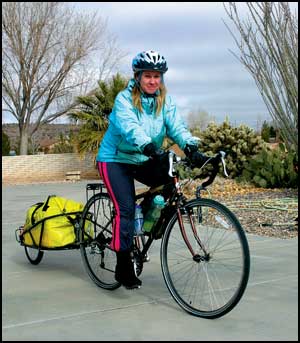 Merry Christmas and warmest wishes for you and yours from sunny Costa Mesa, California.
It is hard to believe I have actually arrived. Upon first waking this morning, in a momentary haze, I was thinking, "How many miles can I make today? How's the weather? The wind? And then it hit me, "I'm here!" And it is nothing short of a Christmas miracle.
As I rolled in Christmas night, the sight of my brother John, standing in his driveway waving a checkered flag and holding a dozen yellow roses, is something I will treasure for the rest of my life.
He is my true definition of courage, fighting the odds of a devastating disease. He is the one who deserves all the accolades, and yet he is cheering me on, just as he always has. Humbling is an inadequate word. I now know the true meaning of an overwhelming moment.
Admittedly, with so many weeks and miles passing since leaving our parents' driveway in Glen Ellyn, it was surreal to arrive. Peddling the last 1/2 mile of the 2,441 mile journey with my sister Donna, I came around a bend and saw an enormous hand-stenciled banner, (compliments of my brother-in-law Charlie) that read "Congratulations Michelle, you made it!" After crashing through the finish line, there were many tears and hugs as John, his wife Tracy, my sister Donna, her husband Charlie, along with cheering neighbors filled the driveway. It was the perfect family reunion, immensely joyful.
To have been able to share this celebration with our parents, Jack and Joan Thompson, the heart and soul of our family, would have been the only addition that could have made this moment more spectacular. They have been an integral part of this family effort since I began pedaling. Although they were deeply missed, without question they were with us in spirit. They had just returned home to Chicago after traveling here for the Thanksgiving Holiday. Originally I had hoped to arrive closer to Thanksgiving rather than Christmas, but Mother Nature and the 12 or so "non-pedaling days" reeked havoc with the master plan.)
In fact, a Christmas arrival would not have been possible if not for my sister Donna, without whom I would still be pedaling somewhere in the Mojave Desert! Meeting me near the California border, acting as my "route scout" and taking BOB (my trailer) allowed me to double my daily miles. She lit my way with headlights through the dark, difficult desert roads and beyond, one day following me until midnight. I am fairly certain I aged her a few years as she waited for me to join her 6 miles down from the summit of the Cajon Pass, yet she still hung in there. Without a doubt route2outsmartcancer has truly been a family effort.
Since Christmas night we have spent much needed time together as a family, sharing stories and of course many laughs. I will be staying on the west coast for the week and look forward to catching up with my brother and family, as well as continuing my work to reach our goal of raising $50K in pledges for my brother and his family. Although the bike-a-thon has ended, this journey for John has just begun as he works everyday to recover strength, eat, drink and talk. After seeing him on Christmas, I am more committed than ever and believe route2outsmartcancer has much yet to accomplish.
The first words my brother spoke to all of us on Christmas were "I am going to kick this, you wait and see, I am going to kick this." And we know he will. He has already beaten the odds and will continue to do so, with the continued prayers, support and friendship of each and every person who makes up the "route2outsmartcancer community." This is a community I am so deeply proud to know and that I pray will continue to grow with your help.
I have been told repeatedly this organization restores one's faith in human kindness, and I couldn't agree more. It is a community made up of people who share a belief in the power of faith, family, friends, and the belief that each of us can make a difference. The outpouring of kindness and generosity is appreciated beyond words. Each and every pledge and prayer we have received and hope to continue to receive have had an incredible impact on my brother's recovery. Every person I have met along the route, every e-mail, kind word of encouragement, letter and phone call, has been an inspiration. You have been a blessing and are now a part of our extended family.
Thank you for taking the time to care about my brother, my family, and my ride. I have had the opportunity to witness humanity at its finest through the efforts of each and every person who has joined with route2outsmartcancer. In a sometimes cynical world that often discourages an effort such as this, with my deepest gratitude, thank you for your support. I ask that you continue to help us by spreading the word as we will keep working until we reach our goal!
Many of you have shared personal stories of your own battle. I believe you will win the battle and beat the odds, just as my brother will, made possible through the love and support of your family, friends, good doctors, second opinions, and faith. Throughout the 2 month ride, you've inspired me with your courage and have made route2outsmartcancer even more meaningful. Please know you were close in my thoughts as I crossed the finish line and hugged my brother.
On behalf of me, John, and our family, we wish for you and your loved ones the same gifts that have been shared with us through the route2outsmartcancer community, these being faith, support, friendship, courage, humor, and unconditional love.
Warmest regards,
Michelle