Source: www.prnewswire.com Author: The Oral Cancer Foundation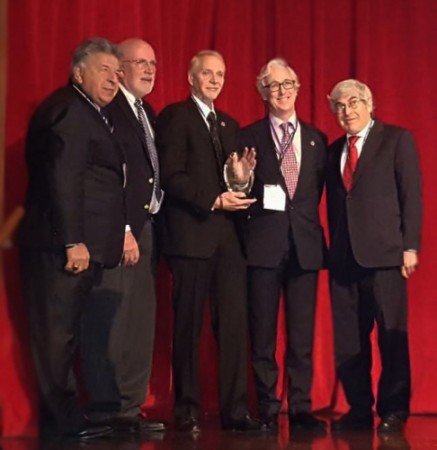 NEWPORT BEACH, Calif., March 10, 2016 /PRNewswire-USNewswire/ — At the recent Global Oral Cancer Forum (GOCF), Brian R. Hill, Executive Director and Founder of the Oral Cancer Foundation (OCF), was honored for his work as an advocate and innovative thinker in the oral cancer arena. The GOCF organizers and community awarded Hill the 2016 Global Oral Cancer Forum Commitment, Courage and Innovation Leadership Award for his dedication and contributions to the field of oral cancer over the last 18 years. Upon accepting the award, Hill received a standing ovation from those in attendance, which included global oral cancer thought leaders, researchers, treatment physicians, other non-profit organizations and representatives from various government agencies, including the National Institutes of Health / National Cancer Institute, and the World Health Organization (WHO).
When asked about being honored Hill said, "In the beginning and for many years I was alone at OCF and it was just the seed of an idea. Those grassroots efforts matured into a robust network of important relationships with a common goal. Today OCF is so much more than just me and my singular efforts. Through the benevolence of the many OCF supporters, particularly in the RDH, dental/medical professional communities and survivor groups, OCF has grown into a powerful national force for proactive change of the late discovery paradigm, access to quality information, disease and patient advocacy, funding of research, and patient support." Hill acknowledges that he had the mentorship of some of the brightest minds of the non-profit world to build his understanding of appropriate governorship of an entity such as OCF, as well as support from core researchers and treatment professionals in the oral cancer arena. "To paraphrase someone far more famous, if I was able to see farther than others had going before me, it was because I stood on the shoulders of many highly accomplished others who helped me achieve my goals," says Hill.
Hill, a stage four oral cancer survivor, became a student of the disease after his own diagnosis left him looking for answers. Since founding OCF and overseeing the path and initiatives of the foundation for more than a decade and a half, Hill often finds the advocacy role suits him well. He has championed anti-tobacco legislation within the political system, and is an advocate at various government entities such as the CDC regarding vaccination of boys against the virus known to be the primary cause of most oropharyngeal cancers.  He also sits on two National Institutes of Health (NIH) oversight committees—one at the National Cancer Institute (NCI), which oversees clinical trials in immunotherapies in head and neck cancers, the other at the National Institute of Dental and Craniofacial Research (NIDCR) reviewing trials looking at long-term outcomes and complications of treatment in head and neck cancers. In addition, Hill still one-on-one counsels patients, participates in OCF's online Patient Support Forum, and is often the voice for a community that has lost its own, through many diverse media interviews and lectures.
While OCF has received many awards for its advocacy work and contributions to the battle against oral cancer, including recognition from the NIH/NIDCR, WHO, Great Non-Profits, various universities and professional medical and dental societies, and even Internet guru Mashable.com for innovations in applying technology to serve its health oriented goals, receiving recognition from this forums organizers and some of the  leading authorities on oral cancer in the international community is particularly meaningful. Those in attendance are recognized as experts in the field and understand the challenges and importance of the work OCF has undertaken. Sponsored by the Henry Schein Cares Foundation, the benevolent arm of the powerful Henry Schein Inc., known for its long-term commitment to improve issues related to oral care, The Global Oral Cancer Forum's vision is to build partnerships that will promote the changes required for a substantial impact on the incidence, morbidity, and mortality of oral cancer worldwide. The importance of the Schein organization's leadership in creating this venue cannot be overstated.
Top oral cancer experts and advocates from around the world, representing countries as far away as Japan, China, and India as well as from the Americas, convened over the weekend to attend the inaugural forum. Attendees included clinicians, scientists, epidemiologists, activists, public health experts, as well as OCF Directors and other NPO organization heads who are working hard to find impactful avenues to reduce the global oral cancer burden. Attendees met to exchange ideas and learn from one another about what is and isn't working in the global realm of this disease. Delegates from thirty-three countries presented new research findings and discussed their unique challenges and approaches to understanding and addressing one of the leading burdens of the cancer world.
Globally, the incidence rate for oral cancer is growing and has reached what many experts are calling epidemic proportions. This year approximately half a million patients will be newly diagnosed with an oral or oropharyngeal cancer. Among the topics discussed by GOCF panelists were the rise in disease incidence and the regional disparities and factors affecting global populations. Communities throughout much of South East Asia report a high percentage of the population chewing betel and areca nut, a significant risk factor for the development of oral cancer. Meanwhile in the U.S. and other developed countries the prevalence of the HPV virus is the leading contributor to the rising rates of oropharyngeal cancers. Identifying these differences is vital to the development of effective prevention, public policy, and treatment strategies. Advancement of a universal understanding of what the problems are and what initiatives are working around the globe, reveals commonalities, and within them the group will find its beginning joint efforts to effect change.
Looking forward there is clearly much work to be done. The good news is that there are significant strides being made in research and treatment; but balancing those positives, there are also significant shortcomings in current governmental policies, prevention, and public awareness and understanding. Hill said, "While I and OCF are very proud to have been chosen by the organizers, and the global oral cancer community to receive this award, it only serves to motivate us to strive to accomplish more. We have built relationships here that will translate into new avenues of endeavor for OCF in the future." Jamie O'Day, OCF's Director of Operations, also attended the conference and spent her time networking with her counterparts from around the world. Many new ideas were garnered from these discussions that will be applied in future OCF initiatives and support OCF's mission to reduce the suffering caused by this disease both nationally and globally.
About the Oral Cancer Foundation:
The Oral Cancer Foundation, founded by oral cancer survivor Brian R. Hill, is an IRS registered non-profit 501(c)(3) public service charity that provides vetted information, patient support, sponsorship of research, as well as disease and risk factor reduction advocacy related to oral cancer. Oral cancer is the largest group of those cancers that fall into the head and neck cancer category. Common names for it include such things as mouth cancer, tongue cancer, tonsil cancer, head and neck cancer, and throat cancer. The Oral Cancer Foundation maintains the websites: www.oralcancer.org , www.oralcancernews.org , www.oralcancersupport.org , which receive millions of hits per month. Supporting the foundation's goals is a scientific advisory board composed of leading cancer authorities from varied medical and dental specialties, and from prominent educational, treatment, and research institutions in the United States. The foundation also manages the Bruce Paltrow Oral Cancer Fund, a collaboration between the Paltrow family represented by Ms. Blythe Danner (Paltrow), Gwyneth Paltrow, Jake Paltrow and the Oral Cancer Foundation.
Media Contact: Jamie O'Day / The Oral Cancer Foundation (949) 723-4400 jamie@oralcancerfoundation.org