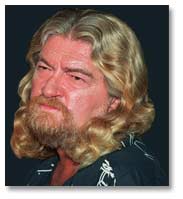 "Basic Instinct" screenwriter Joe Eszterhas has throat cancer after a lifetime of smoking, and is urging Hollywood to stop glamorizing cigarette use the way he says he did.
Eszterhas writes in an op-ed piece in Friday's New York Times that he was diagnosed with the disease 18 months ago. Much of his larynx is gone, he says, and he has difficulty speaking and being understood. "Smoking was an integral part of many of my screenplays because I was a militant smoker. It was part of a bad boy image I'd cultivated for a long time — smoking, drinking, partying, rock 'n' roll," the 57-year-old writes. "Smoking, I once believed, was every person's right. … I don't think smoking is every person's right anymore. I think smoking should be as illegal as heroin."
Eszterhas says he has trouble forgiving himself for the rampant cigarette use in his films. "I have been an accomplice to the murders of untold numbers of human beings. I am admitting this only because I have made a deal with God. Spare me, I said, and I will try to stop others from committing the same crimes I did." The writer of other guilty-pleasure movies, including "Flashdance," "Sliver" and "Showgirls," says there are "1,000 better and more original ways to reveal a character's personality" than with cigarettes.
In 1992's "Basic Instinct," Eszterhas explains, smoking is part of the sexual subtext. " Sharon Stone's character smokes; Michael Douglas' is trying to quit. She seduces him with literal and figurative smoke that she blows in his face," he says. "In the movie's most famous and controversial scene, she even has a cigarette in her hand."
Eszterhas says he has stopped smoking and drinking since his cancer was diagnosed, and now walks five miles a day and attends church on Sunday. "My hands are bloody; so are Hollywood's. My cancer has caused me to attempt to cleanse mine," he writes. "I don't wish my fate upon anyone in Hollywood, but I beg that Hollywood stop imposing it upon millions of others."