Source: www.woai.com Author: News Radio 1200 WOAI Staff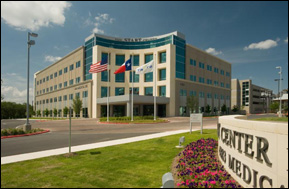 Keytruda, a cancer drug developed largely at San Antonio's START Center, has already proven to be effective in treating advanced melanoma to the point that it is the major part of former President Jimmy Carter's treatment.  Now, News Radio 1200 WOAI reports Keytruda has been given 'fast track' approval by the FDA for use in treating lung cancer, the leading cause of cancer deaths in the United States.
Dr. Amita Patnaik, a researcher and oncologist at START who helped develop the drug, says the impact of Keytruda on lung cancer patients has been amazing.
"Close to 40% of those patients will receive a response," she said.  "And of those patients who receive a response, about 80% of those patients will have a long term response."
The life saving potential of Keytruda in fighting non small cell lung tumors is obvious.  An estimated 221,000 Americans are diagnosed with lung cancer each year, and 158,000 die of the disease annually.
Dr. Patnaik says Keytruda is becoming the most successful of what are known as 'targeted therapies,' drugs which trigger the body to take action to fight the cancer.  She says both melanoma and lung cancer work essentially the same way to undermine the body's defenses.
"The commonality between melanoma and lung cancer is there is a supressive effect of the cancer on the immune system."
She says Keytruda essentially overrides that supressive effect, prompting the body to restart its natural immune defenses and fight the cancer.
That means the treatment takes place without chemotherapy.
"Thus avoiding some of the toxicities associated with chemotherapy including hair loss, fatigue, a drop in counts, nausea and vomiting, and the spectrum of negative side effects you get with chemo."
Dr. Patnaik says several other types of cancers work the same way, 'turning off' the body's natural immune systems, and she says there are indications that Keytruda will work for those cancers as well.
"Keytruda is showing activity in about ten or more other cancers, including liver cancer, head and neck cancer, and in a rare form of breast cancer."
The FDA granted Keytruda 'breakthrough therapy designation' because of demonstrated preliminary clinical evidence that the drug may 'offer a substantial improvement over available therapies.'
*This news story was resourced by the Oral Cancer Foundation, and vetted for appropriateness and accuracy.