Source: www.olivesoftware.com Author: Stewart M. Green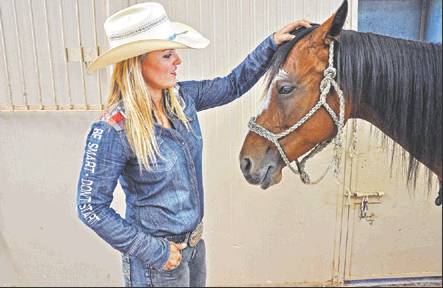 Carly Twisselman, a spokesperson with the Oral Cancer Foundation's rodeo outreach program, and her horse Chanel travel the Western rodeo circuit and talk with kids about the dangers of using spit tobacco. Photo by Stewart M. Green
Carly Twisselman brushed her horse Chanel outside a stall at the Norris-Penrose Event Center, home of the Pikes Peak or Bust Rodeo, which will roll into town July 13-16. "I've been rodeoing my whole life," she said. "Now I do it at the professional level. This is my rookie year so I'm going really hard. I want to win the rookie title."
Summer is the busiest time of the year for cowgirls and cowboys. "We call it Cowboy Christmas, the 4th of July run," she said. Twisselman and her travel partner have recently competed in Utah, Nevada, Arizona, New Mexico, and just drove up from Pecos, Texas, to Colorado Springs for qualifiers. "It's a crazy time," she said. "Lots of traveling, but lots of money to be won."
Twisselman, a 30-year-old barrel racer, grew up on a ranch near San Luis Obispo on the central California coast. "My family's been ranching there for seven generations," she said. "I was on the back of a horse all the time. I was riding before I could walk."
While growing up in the Western ranching and rodeo culture, Twisselman was aware of the widespread use of spit tobacco by cowboys. "I've been around it my whole life and seen a lot of things that were negative and I was affected by it."
Rodeo and tobacco have a long history together. Starting in 1986, the U.S. Smokeless Tobacco Company sponsored the Professional Rodeo Cowboys Association until the association ended its partnership with tobacco advertisers in 2009. Tobacco use, however, still thrives with cowboys and spectators at rodeos.
In 2014, the Oral Cancer Foundation, a nonprofit organization that supports prevention, education and research of oral cancer, reached out to pro rodeo athletes to spread the word about the dangers of tobacco use, with Cody Kiser, a bareback bronc rider, as their first rodeo spokesperson. This past year they added Carly Twisselman to continue creating awareness in the rodeo community.
"Honestly, it was God that they came to me," said Twisselman. "Their goal was to reach rodeo people, people in the Western culture and people that were horse lovers because tobacco is a huge problem in rodeo." The foundation asked Twisselman to be a spokesperson and she gladly accepted. "It's an amazing thing to represent such a great organization. I can take this rodeo platform where I'm in front of thousands of people and use it for good." While the Oral Cancer Foundation wants to help adults with tobacco problems, its rodeo focus is on children. According to The Centers for Disease Control and Prevention, 9.9 percent of high school-age boys use spit tobacco nationwide, while 10.5 percent of men ages 18-25 use it. Usage is higher in rural states like Wyoming, Montana and West Virginia. A can of spit tobacco packs as much nicotine as 40 cigarettes, and a 30-minute chew is like smoking three cigarettes, making addiction to spit tobacco one of the hardest to break. Spit tobacco, including smokeless tobacco, dip, snuff, chew and chewing tobacco, can cause gum disease, tooth decay and oral cancer. Almost 50,000 people will be diagnosed with oral cancer in 2016.
"We aren't telling people they should stop," Twisselman said, "but we show people why it's not good to use tobacco. If someone is chewing, I'm not going to go lecture them."
Twisselman and Kiser focus on helping kids make positive choices about tobacco use. "Kids look up to us as idols and if they see us doing good and not chewing tobacco then maybe they won't either," Twisselman said. "Our message is: 'Be Smart, Don't Start.'"
Twisselman also attends junior rodeos where she hands out wristbands, bandanas, pins, and buttons. "Kids love the freebies," she said. She also wears Oral Cancer Foundation logos on her competition shirts.
Surprisingly, some rodeo women chew tobacco. "It's not the problem it is with the men," Twisselman said, "but I do see it. I find it really repulsive. Sometimes women who chew will see me and say, "Oh, you work with oral cancer" and they'll take their chew out and throw it away because they don't want to be disrespectful to me."
Twisselman said she and Kiser are making a difference, noting people are becoming more educated about the dangers of throat cancer from chewing tobacco and learning that it's not a healthy habit. "We've only been doing this for a year now and we're still getting our feet wet," she said. "It's hard to know if fewer kids are chewing now but I'm getting the word out and interacting with them. Because we take the time to talk with kids and give them the little gifts, it has a huge impact on them."
To learn more about oral cancer and its prevention, medical research, education and for patient support, then visit oralcancer.org.
*This news story was resourced by the Oral Cancer Foundation, and vetted for appropriateness and accuracy.