Source: Millard County Chronicle Progress Author: Doug Radunich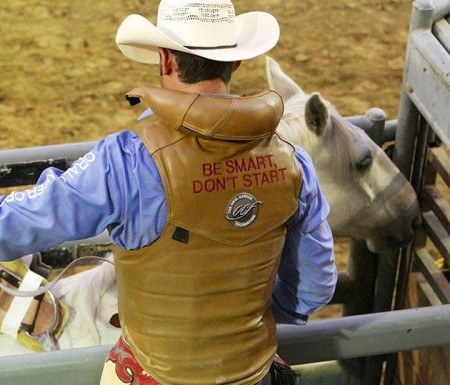 Two traveling rodeo riders helped raise awareness for oral cancer at the Days of the Old West rodeo in Delta June 11-13.
As a non-profit seeking to spread awareness of oral cancer and the dangers of starting terrible tobacco habits, the foundation teamed up with bareback bronco rider Cody Kiser, of Carson City, Nev., and barrel rider Carly Twisselman, of Paso Robles, Calif., in an effort to spread the word among the Rodeo circuit, which is one of the biggest arenas of tobaccos-using patrons. While others are focused on getting users to quit, the Oral Cancer Foundation is encouraging young people to avoid the habit that they may see one of their rodeo heroes engage in. The message of the foundation is simple and not confrontational: "Be Smart. Don't Start". This message was displayed at the recent rodeo in Delta.
Also at the Delta rodeo, Kiser and Twisselman sported Oral Cancer Foundation logos and wording on their clothes and riding gear, while handing out free buttons, wristbands and bandanas. Both riders also gave autographs, talked and had pictures taken with young fans.
Both riders, who will promote the message at different rodeos across the country, also competed in their respective riding events while in Delta.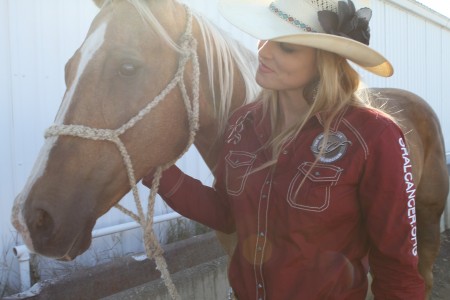 "It's an awesome opportunity to use our platform, and it's for a good cause and to put good message out there," Twisselman said. "There are family members and friends and peers out there who chew tobacco, and in the rodeo world it's still a big problem. There are still so many people who do it, and there's that mentality that 'if he's the world champion and he does it' maybe I should do it. We want to put out a better put message to kids and say they can still be successful and not have to chew."
Twisselman said there is a big focus on the positive aspects of not using tobacco.
"We want to highlight all the good things that come from not using tobacco, and not just talk about the bad things from using it," she said. "Another great thing about the foundation is we're not trying to hammer the message into people or be pushy about it. We also want to reach people who haven't started yet and try to save some lives."
Kiser also said he was excited to be part of the campaign.
"We hand out pins and just try and talk to people as much as we can," he said. "We want to get the word out there about cancer, and our main focus is on kids and teens. We really want to get to them before the pick up the habit. The slogan is 'Be Smart Don't Start.'
According to the Oral Cancer Foundation, oral cancer is becoming an epidemic in the US. Rodeo has a historic tie to smokeless tobaccos, and if the problem is going to be addressed, the Oral Cancer Foundation has to do it where the problem thrives. Smokeless/spit tobacco is one of the historic causes of deadly oral cancers, and is more addictive than other forms of tobacco use.
More on oral cancer facts can be found at www.oralcancer.org.
*This news story was resourced by the Oral Cancer Foundation, and vetted for appropriateness and accuracy.