Source: www.dailyrecordnews.com Author: Nicole Klauss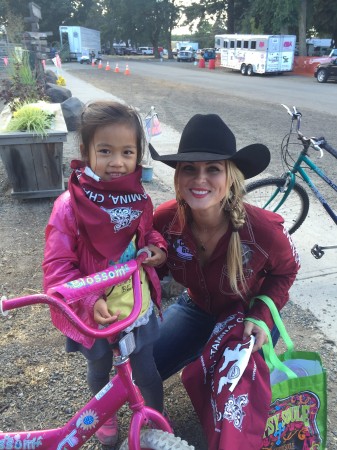 A rodeo barrel racer from California is helping spread the word in Ellensburg that people shouldn't start using tobacco.
Carly Twisselman competed at the Ellensburg Rodeo slack Thursday night. She also helped share the message of the Oral Cancer Foundation, which is "Be smart. Don't start."
While attending and competing at rodeo events, Twisselman reaches out to youth to encourage them not to pick up the habit they may see their rodeo heroes have.
"The rodeo is known for having a lot of chewing tobacco. … The rodeo is such a small community and the heroes in it, the children look up to," Twisselman said. "When they see their hero, growing up they think 'I want to be like them.'"
Campaign
The Oral Cancer Foundation teamed up with Twisselman and bareback bronc rider Cody Kiser to spread the word in the rodeo circuit. The goal of the campaign is to spread awareness of oral cancer and the dangers of starting tobacco use. Twisselman often spends time talking to children and hands out buttons and bandannas to spread the message.
Smokeless/spit tobacco is one of the historic causes of deadly oral cancers, and is more addictive than other forms of tobacco use, according to a news release from the Oral Cancer Foundation.
According to the Oral Cancer Foundation's website (www.oralcancer ocw.upc.edu.org), mouth cancers are newly diagnosed in about 115 people each day in the U.S., and worldwide new mouth cancer cases exceed 450,000 annually. When found at early stages of development, people with oral cancers have an 80 to 90 percent survival rate.
Twisselman has never used tobacco, though some in her family have. Her two brothers both used chewing tobacco, but quit on their own before Twisselman got involved with the Oral Cancer Foundation campaign.
Personal
Twisselman grew up on a cattle ranch in central California and comes from seven generations of ranching.
"I've been riding horses and competing in rodeos since I could walk," she said. "I won the youngest rider award from my fair when I was 2. It's pretty much been in my blood and my lifestyle forever, and it's something I've always been passionate about."
She went to school in Los Angeles, Calif., to study communications and pursue an acting career. Today she is the host of a show on the Ride TV channel. She balances that with rodeo activities.
*This news story was resourced by the Oral Cancer Foundation, and vetted for appropriateness and accuracy.