5/31/2005
Tokyo, Japan
CNN News (www.cnn.com)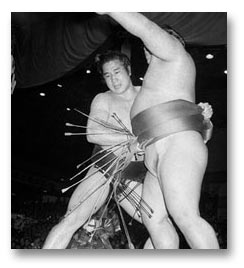 Mitsuru Hanada, a legendary former ozeki from one of Japan's most powerful sumo dynasties, died Monday at 55, sumo officials said. Hanada, more commonly known by his title as stablemaster Futagoyama, died at a Tokyo hospital at 5:40 p.m. (0840 GMT), the Japan Sumo Association announced.
NHK public broadcaster said the cause was a type of oral cancer.
Hanada, during his 16-year career in the ring, came to be known affectionately as the "Prince of Sumo," rising to the sport's second-highest rank of ozeki.
He was also the father of the immensely popular brothers, former yokozunas Takanohana and Wakanohana, who dominated the sport in the 1990s.
Hanada, who also fought under the ring name of Takanohana, rose to sumo's top makuuchi division at the record early age of 18 under the training of his elder brother, Katsuji, the first Wakanohana and also a grand champion.
But he was never able to make it to sumo's top rank of yokozuna despite winning two Emperor's Cups. He retired in 1981 and later became director of the Japan Sumo Association.