Source: www.omaha.com
Author: Rick Ruggles, World-Herald staff writer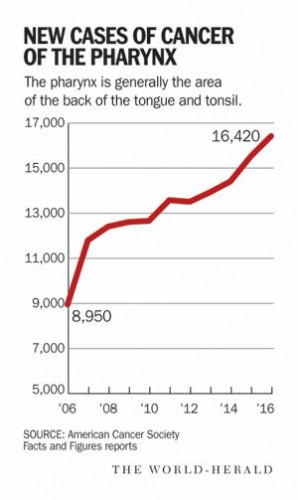 The HPV vaccine can reduce the rates of certain cancers, including many cervical and oral cancers, physicians and medical organizations say. But opposition by some individuals is strong, and HPV vaccination rates remain low when compared with other kinds of vaccinations recommended for adolescents.
Because the human papillomavirus is sexually transmitted and seventh grade is considered the ideal time to receive the three-dose vaccine regimen, the issue is rife with sexual and moral implications. Perhaps more potent today, though, are Internet horror stories and concerns about side effects.
A World-Herald Facebook request for views on the HPV vaccine generated far more negatives than positives. "NO NO & NO!! There is NO reason for this vaccine," one wrote. Another called it a "deadly shot."
Two Omaha mothers who were interviewed expressed their belief that it's wise to have children vaccinated, and said their kids suffered no side effects. But an Iowa man described health problems suffered by his daughter, and he and an Ohio physician believe the girl was injured by the HPV vaccinations.
So mediocre are HPV vaccination rates that GSK, the maker of Cervarix, plans to cease distribution of its HPV vaccine in the United States in September. It will continue to supply it in many other nations, such as Great Britain, Germany, France and Mexico. The departure of Cervarix leaves the market to Gardasil, a vaccine produced by Merck.
"GSK has made the decision to stop supplying Cervarix … in the U.S. due to very low market demand," the company told The World-Herald last week by email.
Many doctors in the Omaha area express disappointment with the low HPV vaccination rates but are optimistic that the situation will improve.
"As pediatricians, we're trying to change that," said Dr. Katrena Lacey, a Methodist Physicians Clinic pediatrician in Gretna. "I think we're on the right track."
A survey of adolescents reported last year by the federal Centers for Disease Control and Prevention found that 39.7 percent of girls ages 13 to 17 had received the three-dose regimen of the HPV vaccine in 2014, and 21.6 percent of boys.
This compares with 87.6 percent of boys and girls who had received the tetanus-diphtheria-pertussis vaccination and 79.3 percent who had received the meningococcal vaccine.
Dr. Megann Sauer, a pediatrician with Boys Town Pediatrics, said parents accept use of the vaccine if it's explained well and described as a cancer-prevention strategy. "It's a huge responsibility for us as providers to offer this to our patients," Sauer said. "My job is to keep my patients healthy."
Gardasil was approved in the United States 10 years ago. It was met with concern that having a child vaccinated for HPV, which is the most common sexually transmitted infection, would promote promiscuity.
Today, the global Christian ministry Focus on the Family says it "supports universal availability of HPV vaccines," but it opposes government-mandated HPV vaccinations for public-school enrollment. The mandates are in place in Virginia, Rhode Island and Washington, D.C.
Tom Venzor of the Nebraska Catholic Conference said the vaccine itself isn't morally problematic. But "the promotion of chastity and parental consent should never be undermined in the promotion of the HPV vaccine," Venzor said in an email.
The Kaiser Family Foundation estimates that there are more than 14 million new human papillomavirus infections annually in the U.S. Most resolve on their own, but some chronic HPV infections can embed in tissues and lead to cervical cancers and tongue, tonsil, anal, vulvar, vaginal and penile cancers.
The American Cancer Society estimated there will be close to 13,000 new cases of cervical cancer this year and 4,120 deaths. HPV was detected in more than 90 percent of cervical cancers, a 2015 study reported in the Journal of the National Cancer Institute said.
"If you've ever seen anyone die of cervical cancer, it will tear you apart, because it's a nasty, nasty disease," said Dr. Steve Remmenga, a specialist in gynecologic oncology at the University of Nebraska Medical Center. Remmenga advocates getting the vaccination.
The CDC recommends routine HPV vaccinations beginning at 11 or 12 years of age for girls and boys, but the series can start as early as 9 years of age. The second dose should be given a month or two later and the third at least six months after the first. The vaccinations may be completed by 26 years of age. The recommendations have been adopted by the American Cancer Society and other medical organizations.
The recommendations suggest children receive the vaccinations "so they are protected before ever being exposed to the virus," the CDC said. The agency said clinical trials indicate the vaccination provides "limited or no protection" against HPV-related diseases for women older than 26.
The CDC says the vaccine has repeatedly been shown to be safe.
Kari Nelson, a biology instructor at the University of Nebraska at Omaha, said two of her daughters, Claire and Emma, have had the full regimen and her third daughter, Gretchen, is about to get her second shot.
"I definitely believe in protecting my kids as much as possible," Nelson said. "I do always try to weigh the pros and cons of anything. I just feel that the pros far outweigh the cons in this case."
The Nelsons' pediatrician, Dr. Tina Scott-Mordhorst, supports children and adolescents receiving the HPV vaccine. Why, she asked, would anyone not get a shot that might prevent cancer? "It works," said Scott-Mordhorst, a clinical professor in UNMC's department of pediatrics.
A study reported this year in the journal Pediatrics found that among sexually active females ages 14 to 24, the prevalence of four key HPV types was 16.9 percent among the unvaccinated and 2.1 percent among the vaccinated.
Scientists say it can take many years for chronic HPV to turn cancerous.
Dr. Bill Lydiatt, a head and neck cancer surgeon at Methodist Hospital, said oral sex and the sexual revolution of the late 1960s have contributed to an increase in cancers of the pharynx, or tonsil and back of tongue. The cancer society reported there will be 16,420 cases of cancer of the pharynx this year, most of them in men, compared with 8,950 in 2006. More than 3,000 will die this year from that kind of cancer, the society says.
Lydiatt said scientists only about 10 years ago made the clear link between HPV and cancers of the pharynx and tonsils.
There are more than 150 strains of HPV and more than 40 that can cause cancer, the Kaiser Family Foundation reported. The first form of Gardasil protected against four strains, including the two believed to be most prevalent in cancers. Two years ago the FDA approved a Gardasil vaccine that protected against nine strains. The study in the Journal of the National Cancer Institute says that "current vaccines will reduce most HPV-associated cancers."
The vaccines are expensive. The Gardasil nine-strain vaccine is close to $250 per dose at Kohll's Pharmacy if a family pays out of pocket. But many insurers, such as Blue Cross Blue Shield of Nebraska, Aetna/Coventry and UnitedHealthcare, participate in the payment.
A Merck spokeswoman said GSK's decision to cease supplying Cervarix to the U.S. market hasn't affected Gardasil prices as of now. An Omaha pharmacist said it wouldn't be unusual to see prices go up with the departure of a competitor. "The reality is that they can," Mohamed Jalloh said. "I'm not saying they're going to."
Merck has applied to the Food and Drug Administration to market a two-dose regimen of Gardasil, which would reduce the overall price of the series.
Facebook posts and the Internet contain scathing reviews of Gardasil, including stories of children being hurt and families being scared of the vaccination.
Laura Hansen, a cancer researcher at Creighton University, said she wishes she could find the words to persuade people to get their kids vaccinated.
"About all of us have family members impacted by cancer," said Hansen, a professor of biomedical sciences. By having their kids vaccinated, she said, "Every parent could make an impact on cancer deaths."
She said it's hard to fight Internet scare stories and "anecdotal science" as opposed to real science and legitimate studies. The discussion should be "more about facts and less about hysteria," said Hansen, who saw to it that her two teen-age sons, Charlie and Jack, were vaccinated.
Jeff Weggen of Muscatine, Iowa, has an entirely different view. Weggen said his daughter, Sydney, had the vaccines about four years ago. Soon after, she began to lose weight, suffered back pain and became pale. Over a period of months she was hospitalized and saw specialists in state and out-of-state. She was eventually found to have a fungal infection and a large tissue mass in her chest.
Weggen eventually linked Sydney's ongoing medical problems to Gardasil, he said. Online groups, other parents and the timeline of her vaccines and her illness helped lead him to this opinion, he said. An anti-Gardasil Facebook post introduced him to a doctor in Ohio who early this year generally confirmed Weggen's suspicions.
Dr. Phillip DeMio of the Cleveland area said he has several patients he believes were sickened by Gardasil. DeMio, a general practitioner who said his practice focuses on chronically ill people, said some of his patients have been injured by other vaccines, too.
"These are challenging situations, no two ways about it," he said. Most people have received a variety of vaccinations, he said, and he believes the aluminum in Gardasil and other vaccines can be a problem for some people.
He saw Sydney early this year. Based on the extensive testing that ruled out other diseases, the severity of her illness, the timing of vaccination and other factors, he said he believes "there's a component of vaccine damage for her and for many of my patients."
He said there are good reasons to have an adolescent receive Gardasil and mentioned the likelihood that some individuals will be sexually active. But it makes no sense to have a 9-year-old get it, he said. He said parents should be well-informed of the risks and benefits of Gardasil and other vaccines.
"I think people should have a choice," he said. "I'm not saying I'm against the vaccine."
The CDC sent a written statement saying that millions of doses of Gardasil have been administered.
Scientific studies have detected no link to "unusual or unexpected adverse reactions," the CDC said.
Side effects can include pain from the shot and occasionally a patient might faint after any injectable vaccine, the CDC said. But "the benefits of vaccination far outweigh any risks."