Source: uscnews.usc.edu/health
Author: Beth Dunham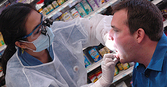 Members of the USC School of Dentistry's Dental Hygiene Class of 2010 provided oral health screenings and tobacco cessation advice for USC students, staff members and visitors during the American Cancer Society's Great American Smokeout on Nov. 19. Marked every November with outreach events across the nation, the American Smokeout is designed to help smokers find effective methods to help them quit smoking and highlight the benefits of giving up tobacco.
Better oral health and dramatically decreased risk of deadly oral cancer is one huge benefit, said dental hygiene student Allison Clark. Just outside of Bovard Auditorium, the student manned a table stocked with information on oral cancer – including shocking photographs of the damage caused by the disease – and helpful advice on how to successfully quit smoking.
Dental hygiene student Lauren Levine said that smokers who turned in at least one cigarette received a prize pack that included a toothbrush and tube of toothpaste, as well as smoking cessation supplies such as gum and information on quitting resources and techniques. They also received a raffle ticket for a chance to win an electric toothbrush.
Dental hygiene students conducted oral health screenings at both the USC Pharmacy and School of Dentistry on the University Park campus. Even nonsmokers took the opportunity to receive a free oral health checkup. Staff member Todd Henneman said he thought having a screening was a good idea even though he doesn't smoke.
"I figured that I might as well take the opportunity to make sure there were no problems," Henneman said.
Staff member and USC alumna Lauren Sherrell said she is "very much into preventive measures." Though she doesn't smoke, she opted for an oral health screening as soon as she saw the signs outside the pharmacy.
Diane Melrose, chair of the USC dental hygiene program, said the students had conducted more than 120 oral screenings and spoke to more than 500 people about the effects of smoking on the oral cavity.
Coupled with activities that took place all over the country, Levine said she hoped lots of smokers got the message and found advice on quitting.
"It's really cool that it's not just about our efforts here at USC but also nationwide," she said.