Source: www.kristv.com Author: Annie Sabo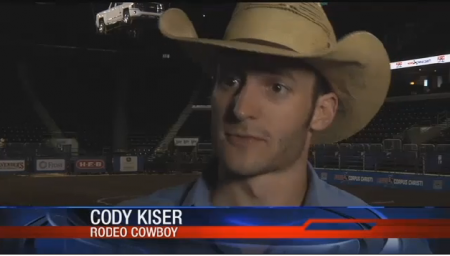 In an environment where smokeless and spit tobacco is prevalent, cowboy, Cody Kiser, says he feels like the luckiest guy in the world to represent the Oral Cancer Foundation.
He told us, "I just happened to be in a class with a classmate. Their sister works for the oral cancer foundation…one thing led to another and they said  we've been looking for a cowboy that doesn't smoke or chew and we'd love to be able to work out some kind of deal where we help you out you help us out…now I'm here."
Although Cody has not been personally affected by the cancer, he wears a special patch on his shirt to raise awareness for the deadly disease.
He said, "I'm very lucky that I haven't had any family members or friends be affected by oral cancer. I've made friends with people that have been now and it's a real eye opener."
Since partnering with the oral cancer foundation, he works hard to promote this message: "Be smart don't start…we want to get out to the kids and fans who haven't smoking or chewing yet."
Cody says the best part about working for the oral cancer foundation is serving as a role model for children. He told us, "You can be an elite athlete and an amazing cowboy without having to smoke or chew. That's our goal is to get to those kids before they do that. I just want to be a good role model for these kids."
Rodeo after Rodeo, Kiser hopes to make a difference.
Kiser wears this patch every time he competes.
View Cody Kiser's full inter view here: http://www.kristv.com/clip/12364598/rodeo-cowboy-has-a-special-message-at-buc-days
*This news story was resourced by the Oral Cancer Foundation, and vetted for appropriateness and accuracy.