Source: www.washingtonpost.com Author: Marissa Payne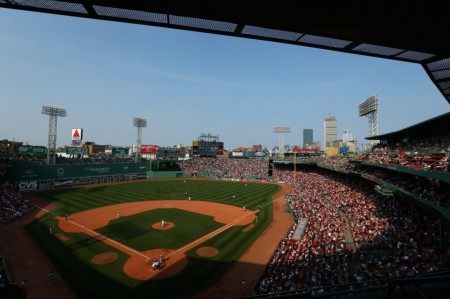 Baseball in Boston is about to change. On Wednesday, the City Council voted unanimously to make its baseball parks and stadiums, including historic Fenway, tobacco-free zones. And yes, the ordinance covers the kind of tobacco you chew, a longtime favorite of many MLB players.
"This action will save lives by reducing the number of young people who begin to use smokeless tobacco because they followed the example of the Major Leaguers they idolize," Matthew Myers, president of the Campaign for Tobacco-Free Kids said in a statement sent to The Washington Post. "We thank Mayor Marty Walsh, the City Council and Boston's health community for their leadership on this important issue."
Red Sox owner John Henry was also supportive of the legislation.
"It's a great thing," Henry said (via Boston.com) when Mayor Walsh first proposed the legislation last month. "I'm very supportive."
The ban doesn't just apply to players, but also fans, and it covers all stadiums from major-league to organized amateur games. Those found in violation of the ordinance face a $250 fine, Boston's Fox affiliate reports.
Boston is now the second major U.S. city to ban tobacco at its baseball stadiums. San Francisco, which banned the substance in April, was the first. Both cities had very good reasons to nix the chew.
Smokeless tobacco, like cigarettes, contains the addictive substance nicotine and its users can become more at-risk for illnesses such as cancer, gum disease and heart disease, according to the Mayo Clinic.
"You can call chewing tobacco by whatever name you want — smokeless tobacco, spit tobacco, chew, snuff, pinch or dip — but don't call it harmless," a Mayo Clinic brochure says.
The most dangerous side effects of chewing tobacco rose to fame last year when two former major league players connected their cancers to the habit.
"I do believe without a doubt, unquestionably, that chewing is what gave me cancer," former MLB pitcher Curt Schilling said at the WEEI/NESN Jimmy Fund Radio Telethon last year. "I did [it] for about 30 years. It was an addictive habit. … I lost my sense of smell, my taste buds for the most part. I had gum issues, they bled, all this other stuff. None of it was enough to ever make me quit. The pain that I was in going through this treatment, the second or third day it was the only thing in my life that … I wish I could go back and never have dipped. Not once. It was so painful."
An even more dire warning came from the experience of San Diego Padres slugger Tony Gwynn. His cancer of the mouth and salivary glands killed him last year at the age of 54. Before his death, he too blamed his disease on smokeless tobacco.
"Of course, it caused it," Gwynn once said. "I always dipped on my right side."
Despite the health concerns, however, many MLB players, including several Red Sox players, continued to use chewing tobacco.
An informal Boston Globe survey last month found that 21 of the 58 Red Sox players who were invited to spring training last year indicated they used smokeless tobacco. This is despite the team already discouraging the substance's use by offering players other things to chew on, including gum and sunflower seeds.
With the new ordinance, however, those players will now be forced to find new, possibly safer habits, which the Boston City Council and tobacco-free advocates hope trickle down to their young fans.
While cigarette use among youths in the United States is declining, smokeless tobacco use has remained steady. According to the Centers for Disease Control and Prevention, more than five out of every 100 high school students reported using smokeless tobacco in 2014. Nearly two out of ever 100 middle schoolers said they used the substance.
Boston and San Francisco aren't the only city's that see a problem either.
In June, a member of the Los Angeles City Council proposed legislation to also ban tobacco at area baseball stadiums.
"It's about protecting the health of our players and the health of our kids," Councilman Jose Huizar told the Los Angeles Times. "America has a great pastime, but chewing smokeless tobacco shouldn't be part of that."
*This news story was resourced by the Oral Cancer Foundation, and vetted for appropriateness and accuracy.