Source: www.charlotteobserver.com
Author: Josh Lanier
The cover of Barbara Bragg's book, "Destination Cancer Free," says it all.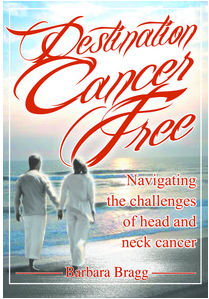 It shows a photo of a man and woman walking hand-in-hand along a beach and serves as a powerful metaphor for her husband's battle to overcome a diagnosis of stage IV oral cancer. Beating cancer is a journey and a team effort.
Bragg wrote about that journey in her book, which she hopes will help other cancer patients and their families.
"When we got the diagnosis, I immediately tried to learn everything I could," Barbara Bragg, a Davidson resident, said. "Because we were going to get through this. There was no doubt."
Arthur Bragg, 65, received his diagnosis last year, after he woke up one morning with a lump on his neck. Within a few weeks, the small protrusion had grown to the size of a grape. A check-up with doctors at Lake Norman Ear, Nose and Throat confirmed their fears.
"Your heart sinks after you hear the word cancer," Arthur Bragg said. "You just don't know how to react."
Bragg is not one to be intimidated by fear. A U.S. Army staff sergeant in the Vietnam War, he was awarded a Bronze Star for valor and a Purple Heart during his service. But a fight against cancer is unrelenting. He received dozens of rounds of chemotherapy and radiation that left him weak, constantly sick, and he had difficulty swallowing for several days.
And, along with his misery, he knew his wife was struggling, seeing him in such a condition.
"That was so hard on me, knowing Barbara was suffering because of all of this," he said. "But without her, I really don't know how I would have gotten through it. She was my caretaker, my angel, my soul mate, my everything."
Barbara Bragg excelled in her new role.
She spent her days chatting up Arthur's doctors, therapists and nurses, she kept detailed notes and researched all she could about the disease. She was such a positive influence that Arthur's doctor, Herb Wettreich of Lake Norman ENT, brought her in to speak with the wives of other patients who were recently diagnosed with similar cancers.
"Barbara was extremely supportive and had a unique aptitude of not being intimidated by this very foreign situation," Wettreich said in an email.
While researching, however, she found it difficult to find one source that had all the information she needed.
She couldn't find a place that provided an all-encompassing process of what to expect and how to handle it. She wanted to know the medical side of the discussion as well as the personal stories of survivors.
"I really wanted to hear from people who'd gone through this to really help us understand what to do," she said.
About halfway through Arthur's seven-week treatment plan, Barbara Bragg decided she should create a guidepost of sorts for other families going through the illness. She is a professor of writing for the University of Phoenix and she wanted to completely capture the entire process from diagnosis to remission.
Wettreich also thought it was a good idea. He even helped edit the book to make sure the medical and treatment information was accurate.
"Destination Cancer Free," which was self-published earlier this year, is personal in nature but grand in its scope. There's information on pain management and treatment options, alongside stories of long nights without sleep and struggling to keep collected. There's even a recipe for a "super shake," a 2,000-calorie shake perfected by Arthur's nutritionist. Chemotherapy and radiation for oral cancers are especially painful. Often, patients are unable to swallow, lose their sense of taste and end up on feeding tubes, so work arounds like a calorie-heavy shake are vital.
Arthur's cancer is in remission and he credits Barbara for a lot of that success.
"I really hope our story can help other families going through this," he said. "That's what is most important to me right now, helping others who get this horrible disease."
The Braggs say they will give any money they make on the book to fund research on oral cancer. Since Arthur's diagnosis, Barbara has become vocal in getting more people to talk to their doctors about early detection screenings.
"We were just ordinary people going through extraordinary circumstances," Barbara said. "I hope, if anything, the book can let people know to stay positive, keep fighting and beat this thing."