Source: www.kyforward.com Author: www.kyforward.com web staff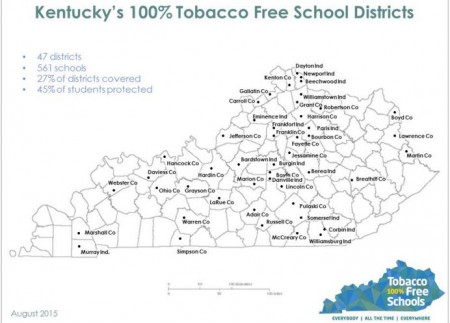 High-school athletes are using more smokeless tobacco, even though overall tobacco use among high-school students has declined, according to a study published by the federal Centers for Disease Control and Prevention.
We can do more to protect America's youth from a lifetime of addiction," Tom Frieden, CDC director, said in a press release. "The fact is, smokeless tobacco products, such as chewing tobacco, snuff or dip, can cause cancer of the mouth, esophagus and pancreas. And the nicotine in these products is harmful to the developing brain. Because we know tobacco-free policies in schools and other public recreational areas work, we must take action now so that our children are safe from these toxins."
Student responses to the national Youth Risk Behavior Survey from 2001 through 2013 show that the share reporting any tobacco use dropped to 22.4 percent from 33.9 percent, and the rate of those smoking combustible tobacco products dropped to 19.5 percent from 31.5 percent. However, those who reported using smokeless tobacco products increased to 8.8 percent from 8.2 percent.
The increased use of smokeless tobacco was driven by athletes. The rate among non-athletes remained unchanged at 5.9 percent but has "increased significantly" to 11.1 percent from 10 percent in youth athletes.
Researchers suggest that athletes are aware of the adverse consequences of smoking on athletic performance, but may view smokeless tobacco as "less harmful, socially acceptable, or even a way to enhance athletic performance."
The 2013 YRBS found that 26.3 percent of Kentucky's high school youth reported any use of tobacco; 17.9 percent were smoking cigarettes, and 13.2 percent reported using smokeless tobacco.
"Tobacco use among youth athletes is of particular concern because most adult tobacco users first try tobacco before age 18," Brian King, deputy director for research translation in the CDC Office on Smoking and Health, said in a press release. "The younger people are when they start using tobacco, the more likely they are to become addicted and the more heavily addicted they can become."
The reports calls for increased education about the dangers of smokeless tobacco; recognition that the tobacco industry pushes smokeless tobacco as an alternative to smoking where it is prohibited; that the role of professional athletes, many who use smokeless tobacco, must be part of the discussion because they are often considered role models by youth; and that "implementing and enforcing tobacco-free policies that prohibit all tobacco use on school campuses and at all public recreational facilities, including stadiums, parks, and school gymnasiums, by players, coaches, referees, and fans might help reduce tobacco use among student athletes."
As of September, Kentucky had 47 school districts with comprehensive tobacco free policies. These policies cover 45 percent of Kentucky's students and represents 27 percent of the school districts in the state, according to the Kentucky 100% Tobacco Free Schools website.
"Creating 100 percent tobacco-free environments is one of the best ways we can set our kids up for a healthy future," U.S. Surgeon General Vivek H. Murthy said in the release. "It helps them see that being tobacco-free is the way to better health and a longer life."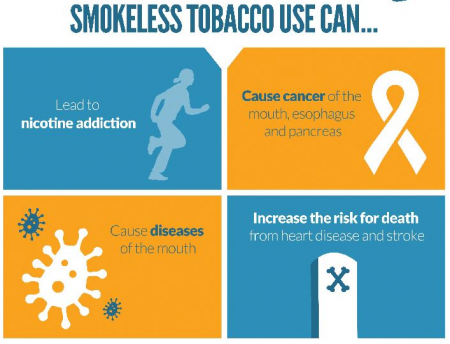 *This news story was resourced by the Oral Cancer Foundation, and vetted for appropriateness and accuracy.