Source: chicagoist.com
Author: Angie Wiatrowsk
As the Rangers and Cardinals play in the World Series, the U.S. Senate is pushing for something else. As if they have nothing better to do.
Four United States Senators, including Dick Durbin of Illinois, and health officials from St. Louis and Arlington, TX. made pleas in separate letters in hopes of banning chewing tobacco at baseball games and on camera. They want to stress not only the harmful effects on the players, but the image they're sending to children who watch them.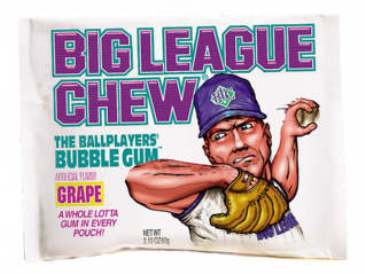 St. Louis public health authority Pamela Walker said in her letter, "Younger people believe smokeless tobacco is a safer alternative to cigarettes, and when they see people they idolize do it that reinforces that belief. Not only that, it makes dipping look cool."
Baseball players dipping is no news, it's been affecting kids for years whether we tend to ignore it or not. Shoot, the term "bullpen" came to existence when Blackwell Tobacco Company released Bull Durham brand tobacco in 1860.
After all, who as a kid growing up playing ball didn't have their share of Big League Chew? That's right, before you hit the field, pull out that stringy wad of "groundball grape" and stick it in your cheek like the guys on TV.
It was an alternative to chewing tobacco that was very well marketed to kids. It was created by Portland Mavericks' pitcher Rob Nelson and New York Yankees' Jim Bouton. The two were sitting in the bullpen and were searching for a fun alternative to chewing tobacco that had taken over ballparks all across America in the 1970s.
Big League Chew was introduced in 1980 and the packaging and product itself was ironically similar to that of chewing tobacco. Coincidence? We think not. We also think this ban won't do anything really. Tobacco was banned in the Minor Leagues in 1993 but it hasn't stopped many people from taking up the habit. Players are still going to hide it, kids are going to do it if they want to.
And let's not forget the catchy slogan, "You're in the Big Leagues when you're into Big League Chew." It's got to be better than, "You're in the Big Leagues when you've got oral cancer." That's how it ended for Babe Ruth, who died of throat cancer at age 53.