Source: CSP Daily News Date: August 5, 2013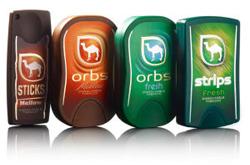 Camel Orbs, Sticks, Strips will remain available in current test markets
WINSTON-SALEM, N.C. — R.J. Reynolds Tobacco Co. is limiting the marketing of its trio of dissolvable tobacco products: Camel Orbs, Camel Sticks and Camel Strips, reported The Winston-Salem Journal. The company has been testing the products in five markets for more than four-and-a-half years.
Reynolds began testing the dissolvable products in early 2009. By comparison, it took only two-and-a-half years–from April 2006 to Oct. 2008–to take its Camel Snus products from test markets to national distribution.
Reynolds spokesperson Richard Smith said the products will remain in limited distribution in Charlotte, N.C., and Denver at point-of-sale (POS) sites.
"At this time there are no plans for any marketing beyond these channels," Smith told the newspaper. "We've found in our conversations with adult tobacco consumers that while there's strong interest in the category, a different product form may present a better option over the long term. Though for now, Camel Sticks, Strips and Orbs will remain available while we continue to gather learnings."
Reynolds has carved out an important and profitable niche as the industry's leading manufacturer of innovative smokeless products, said the report.
The dissolvable products are made of finely milled tobacco and come in flavor styles of fresh and mellow. The products last from two to three minutes for the strips, 10 to 15 minutes for the orbs and 20 to 30 minutes for the sticks. They carry the same health warnings as other oral smokeless products.
The products were sold initially in Columbus, Ohio, Indianapolis and Portland, Ore., before being shifted to Charlotte and Denver in March 2011. Although Reynolds does not dictate retail prices, the company said the dissolvable products should sell at a comparable price to a tin of Camel Snus, which is between $4 and $4.50.
The products have drawn criticism from the Campaign for Tobacco-Free Kids. They "are flavored and packaged like candy, and very likely will appeal to children," said Matthew Myers, president of the advocacy group.
Reynolds has sold the dissolvable products in child-resistant packaging, which may have proven to be a detriment to sales, according to analysts.
"The test markets weren't good, and Reynolds made the products impossible to open without scissors," Bill Godshall, executive director of Smoke Free Pennsylvania, told the paper.
*This news story was resourced by the Oral Cancer Foundation, and vetted for appropriateness and accuracy.