Source: sportsillustrated.cnn.com
Author: Peter King
The voice of Tony Corrente was ebullient, as ebullient as a man who stared down his own mortality within the past few months and lived to tell about it.
"How are you doing?" I asked Corrente an hour after he refereed his first game — Niners-Jets at the Meadowlands Sunday — since his tongue and throat cancer eradication of last winter.
"Wonderful, fantastic, perfect!" he practically shouted into the phone. "Never been better, and I mean that. I am elated. I have a new lease on life."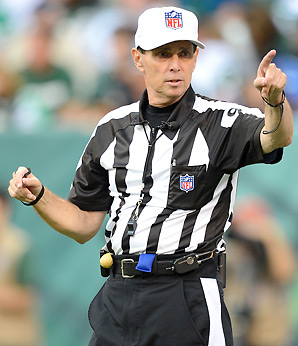 Corrente checked into the M.D. Anderson Cancer Center in Houston the day after his final game of the 2011 season — the Detroit-New Orleans Wild Card game — for treatment of a thumb-sized malignant tumor at the base of his tongue, where it connects with the back of his throat. He had 13 chemotherapy treatments and 33 zaps of radiation in a short period, to attack the tumor aggressively. Doctors told him if the tumor had been discovered as little as three weeks later the news would have been very dark for him. But they began treatment in time, and in the spring, they found that the tumor was under control. He's had two thorough checkups since, and both have given him a clean bill of health.
This is why, as the National Anthem played Sunday in New Jersey, Corrente said a long prayer of thanks for his doctors and for those who supported him during the ordeal.
"I did not ever in my wildest dreams think I'd be back on the field," Corrente said, his voice catching.
Corrente looks a little slim still. He's having trouble putting weight on. And he said, "I still carry some of the fatigue with me. But I'm ahead of the curve in physically rebounding from this, so I consider myself lucky in that regard."
In many regards. It's good to see Corrente back