Source: www.adelaidenow.com.au
Author: Samantha Maiden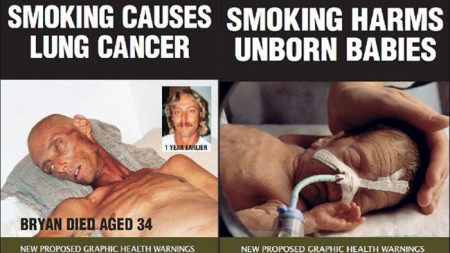 Shocking new warnings for cigarette packets will feature sick babies, a dying man and a naked smoker with a colostomy bag.
Health Minister Nicola Roxon launched the new health warnings yesterday and confirmed plans to stamp tobacco products with the images from July next year. And the giant warnings will cover 75 per cent of cigarette packets – rather than the current 30 per cent.
The new warnings will appear at the same time as world-first plain packaging that will force manufacturers to sell cigarettes in plain, olive-brown packets. The new plain-packing rules will ban branding of any form, removing the last forum for tobacco advertising in Australia. Other images include horrific images of a man dying of lung cancer with his eyes rolled back. A rotting, gangrenous foot and images of a man with tongue cancer are also included.
Ms Roxon launched the discussion paper, conceding they were "striking and confronting reminders of the death and disease that tobacco brings."
She said the shock tactics were a proven, effective way of helping people to kick the habit.
"Seeing the heartbreaking harm that can be caused to an unborn baby or the horrific effects of cancer is a shocking reminder that quitting smoking is one of the best things that someone can do to improve their health," she said.
"And 15,000 Australians die from tobacco each year. That's too many families mourning a loved one and why the Government is acting to protect the health of Australians.
"When the Government's plain packaging legislation comes into effect, the warning and graphic will cover 75 per cent of the front of the cigarette pack rather than the current 30 per cent."
The Government conceded that the shock tactics were sparked by fears that the impact of existing health warnings was eroding with familiarity. Tobacco companies have threatened to challenge the plain packaging laws in the High Court. The laws are likely to pass the Senate this week.