Source: www.nydailynews.com
Author: Corky Siemaszko
Michael Douglas said the tumor at the back of his tongue was the size of a walnut, but it still took doctors nine months to figure out it was throat cancer.
"I knew something was wrong," he said. "My tooth was really sore, and I thought I had an infection."
But the ear-nose-and-throat doctors and periodontists he consulted kept giving him antibiotics.
"And then more antibiotics, but I still had pain," he said.
Finally, in 2010, a doctor in Montreal figured out that thing on his tongue was tumor.
"Two days later, after the biopsy, the doctor called and said I had to come in," Douglas recalled in a wide-ranging interview with New York magazine. "He told it me it was stage-four cancer. I said, 'Stage four. Jesus.'
"And that was that. After complaining for nine months and them not finding anything, and then they told me I was stage four? That was a big day."
Douglas not only talked about his brush with mortality, he also chatted about his Hollywood comeback. He plays flamboyant piano tickler Liberace in an HBO biopic, "Behind the Candelabra," that airs May 26.
"Liberace loved sex," he said.
But the "Wall Street" star's revelation that he had cancer sent a scare through Hollywood, where the words "stage four" were looked at as a death sentence. And for a time, Douglas looked like hell — losing 45 pounds as he subsisted on mostly on matzo ball soup as he healed.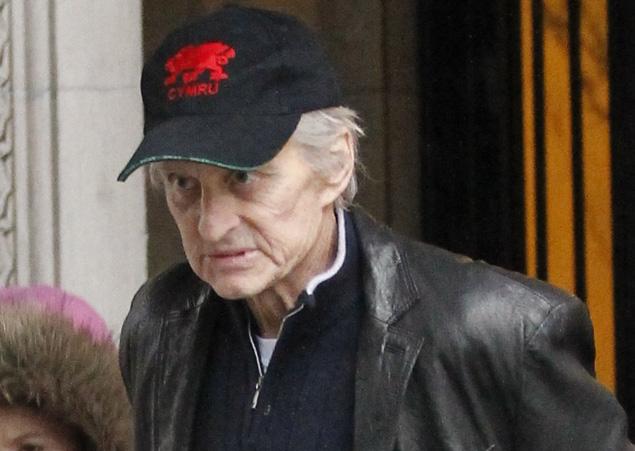 Weakened by chemotherapy and radiation treatments, Douglas said he spent hours lying on a couch. Douglas looked like hell while recovering from cancer — losing 45 pounds as he subsisted on mostly on matzo ball soup.
"I watched a lot of sports, anything where I didn't know the ending," he said.
But Douglas was lucky to have a curable kind of cancer and now he's back at work feeling a "new rejuvenation."
Douglas said he believe his illness was "karmic retribution" for his decades of success, including two Academy Awards and four Golden Globes.
"That's life," said Douglas, 68. "I was ready for some karmic retribution."
Douglas may be on the mend, but he's hit other bumps in the road. His glamorous wife, actress Catherine Zeta-Jones, remains in rehab, where she has been fighting depression.
His troubled 34-year-old son by his first wife is doing time for distributing crystal meth — and recently had nearly five years added to his sentence after he was caught doing drugs in prison.
"I have gone from being a very disappointed but loving father who felt his son got what was due him to realizing that Lady Justice's blindfold is really slipping," he said. "I'm not defending Cameron as a drug dealer or drug addict, but I believe, because of his last name, he's been made an example."
Douglas, who has two kids with Jones, has expressed regrets in the past about being a lousy dad to Cameron. And he has spoken about growing up in the shadow of his famous father, actor Kirk Douglas.
"Success is expected, and yet the track record of the second generation is not great," he said. "Only a small group of us, like Jane Fonda, have succeeded." Fonda's dad was actor Henry Fonda.
"The good and the bad of being second generation is: There are no illusions," he said. "I always knew that this was a business. It can be wonderful, but it is a business."