Source: The Lancet Published: November 9, 2013 By: Zoe R. Edelstein, Stephen Schwartz, Laura A. Koutsky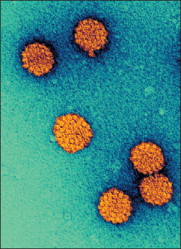 Aimée Kreimer and colleagues (Sept 7, p 877)1 report an annual incidence of oral human papillomavirus (HPV) infection of 4·4% in an international cohort of men (aged 18—73 years; n=1626; specimen collection every 6 months). We would like to offer a methodological explanation for the difference between this estimate and our estimate of 12·3% from a cohort in Seattle, WA, USA (aged 18—24 years; n=212; specimen collection every 4 months).2 There are several potential explanations, including differences in study population, sample size, and specimen collection schedule. We suggest that one of the main reasons is the difference in specimen collection method. Kreimer and colleagues measured HPV DNA using an oral rinse and gargle, whereas we used both an oral rinse and gargle and a self-collected swab of the back of the throat. In our paper, we also reported an incidence of 6·3% of oral HPV infection on the basis of the rinse-and-gargle method alone, which is closer to the 4·4% reported by Kreimer and colleagues. Pickard and colleagues3 estimated oral HPV incidence of 5·7 per 1000 person-months using a rinse-and-gargle method in a cohort of male and female US college students followed up for 3 months—corresponding to a 6·8% annual incidence. The similarity between these incidence estimates suggests that, to date, there is little evidence that oral HPV infection risk varies greatly across studies that differ in the composition of their study populations.
* This news story was resourced by the Oral Cancer Foundation, and vetted for appropriateness and accuracy.