Source: Robert Wood Johnson Foundation  Published: December 10, 2013 By: Danny McGoldrick
On November 23, 1998, 46 states settled their lawsuits against the nation's major tobacco companies to recover tobacco-related health care costs, joining four states—Mississippi, Texas, Florida and Minnesota—that had reached earlier, individual settlements.
These settlements require the tobacco companies to make annual payments to the states in perpetuity, with total payments estimated at $246 billion over the first 25 years.
Yesterday a coalition of health advocacy groups released the latest edition of A Broken Promise to Our Kids, an annual report on state use of tobacco funds for tobacco prevention and cessation efforts. As in years past, the report finds that most states fall short in the amount of money they allocate to prevent kids from smoking and to help current smokers quit.
The groups that jointly issued the report include the Campaign for Tobacco-Free Kids, the American Heart Association, American Cancer Society Cancer Action Network, the American Lung Association, the Robert Wood Johnson Foundation and Americans for Nonsmokers' Rights.
Key findings of the 2013 report include:
• Over the past 15 years, states have spent just 2.3 percent of their total tobacco-generated revenue on tobacco preventionand cessation programs.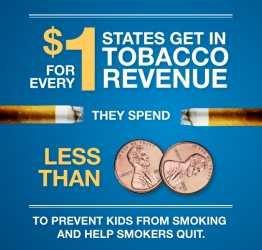 • The states this year will collect $25 billion from the tobacco settlement  and tobacco taxes, but will spend just 1.9 percent of it—$481.2 million—on tobacco prevention programs. This means the states are spending less than two cents of every dollar in tobacco revenue to fight tobacco use.
• States are falling short of the U.S. Centers for Disease Control and Prevention's (CDC) recommended funding levels for tobacco prevention programs. Altogether, the states have budgeted just 13 percent of the $3.7 billion the CDC recommends.
• Only two states—Alaska and North Dakota—currently fund tobacco prevention programs at the CDC-recommended level.
To discuss the ramifications of the latest edition of the Broken Promises report, NewPublicHealth recently spoke with Danny McGoldrick, vice president of research at the Campaign for Tobacco-Free Kids.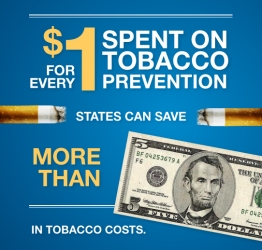 NewPublicHealth: Can you give us some background on the Tobacco Master Settlement Agreement?
Danny McGoldrick: This is the 15th anniversary of the Tobacco Master Settlement Agreement, when 46 states and the District of Columbia settled their lawsuits against the tobacco companies mostly to recover the costs that they'd incurred treating smoking-caused disease in their states. Four other states had settled individually with the tobacco companies prior to the Master Settlement Agreement, and so this provided for some restrictions on tobacco company marketing; they promised never to market to kids again, which is ironic, but it also resulted in the tobacco companies sending about $250 billion over just the first 25 years of the settlement for the states to spend as they saw fit. They left that to the province of the state legislators and governors to decide how those funds should be spent.
 NPH: Why do states do with the funds not used on tobacco prevention and cessation efforts?
McGoldrick: States have used a portion of the funds to deal with budget deficits as well as a number of other things, some worthy programs. But what they haven't done is fund tobacco prevention programs at anywhere near the levels recommended by the U.S. Centers for Disease Control and Prevention, which provides guidance not only on the amount of money the state should spend for these lifesaving and moneysaving programs, but also the science behind exactly what kind of programs to run.
These are science-based interventions that we know work when funded and implemented properly. They consist of hard-hitting media campaigns that get the word out about the dangers of tobacco use in ways that resonate with kids and with smokers to encourage them to quit. They include community-based programs that reach people where they live, work, play, and learn with messages about tobacco use, again preventing kids from starting and encouraging smokers to quit and involving young people in talking to each other about not only the harms of tobacco, but the role of tobacco companies in targeting them. And finally, they include help for smokers who want to quit. And there's a science behind each of these interventions, but when we put them together in a comprehensive program we know they work through reduced tobacco use among both kids and adults.
NPH: On average, what percentage do the states use? Is that a good number? Does that really tell us that most states tend to use the same percentage of funds?
McGoldrick: It really varies because states are different sizes and they spend the money in different ways. What we look at is how states are spending relative to what the CDC recommends, and it's a pretty dismal picture. Overall, states are spending only about 2 percent of the $25 billion they received in the most recent fiscal year from their master settlement payments and their tobacco taxes. This is just a travesty. Only two states are funding at the level the CDC recommends—those are North Dakota and Alaska—and only four more at spending at even half the level that the CDC recommends—those are Delaware, Wyoming, Hawaii and Oklahoma. So almost half the states, 24 states, are spending less than 10 percent of what the CDC recommends for these programs that we know work and that they have the money for. Three states are spending less than 1 percent of what the CDC recommends—New Hampshire, Alabama and Missouri. New Jersey is spending no state dollars on tobacco prevention.
So, when you look at it in terms of what the CDC recommends, when you look at it in terms of what the states are getting in terms of all of this revenue, when you look at it compared to what the tobacco companies are spending to get people to smoke and when you look at it compared to what we're spending treating tobacco-caused disease, it just makes no sense that states aren't doing a better job keeping the promise of the tobacco settlement.
NPH: What are the key recommendations for what states should be doing?
McGoldrick: We know that states have a lot of issues that they're dealing with and programs that they need to fund, but it would only take about 15 percent of the revenue that states are taking in from their master settlent payments or their settlement payments and their tobacco taxes to fund these programs. So that should be priority one and would still leave tens of billions of dollars to fund other important programs in the state.
It really is penny wise and pound foolish not to invest this money because we know that states not only save lives by investing in these programs, but they save health care dollars. Tobacco-caused diseases are a big reason for the health care crisis in our states. We spend almost $100 billion every year treating tobacco-caused disease in this country, all of that absolutely and completely preventable. So when you invest in these programs, you not only save lives, you not only save kids a lifetime of addiction and premature death, but you actually reduce your healthcare costs so these programs pay for themselves. Our governors and legislators are not only not doing the right thing with the money—they're not doing the smart thing for their own budgets. It's really unbelievable that they could not only save lives but actually save money in the long run by investing in these programs, and they're just making shortsighted and foolish decisions.
* This news story was resourced by the Oral Cancer Foundation, and vetted for appropriateness and accuracy.