Source: http://www.healthcanal.com/
Author: Craig Palmer, ADA News staff
The Food and Drug Administration will require use of a "cancerous lesion on lip" image in cigarette advertising and packaging for its potential to motivate positive behavioral change, influence youth and young adults in particular and inform the public that cigarettes cause oral cancer.
Flexing its regulatory muscle on the second anniversary of the Family Smoking Prevention and Tobacco Control Act, which was signed into law June 22, 2009, the FDA unveiled nine graphic health warnings to be placed on all cigarette packs, cartons and ads no later than Sept. 22, 2012.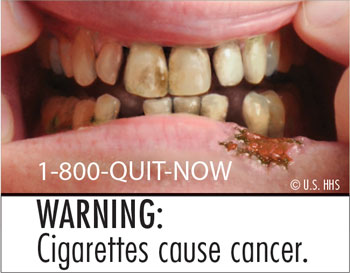 "The nine new health warning statements and the accompanying graphic images selected by FDA convey information that is factual and uncontroversial," the agency said in the regulatory notice.
The FDA simultaneously announced a public inquiry and request for comments on the public health impact of modified risk tobacco products sold or distributed for use to reduce harm or the risk of tobacco-related disease associated with commercially marketed tobacco products. The FDA scheduled a public forum Aug. 25-26 to obtain information on "the scientific issues associated with assessment and ongoing review of MRTPs." These include smokeless and other products promoted as alternatives to cigarette smoking.
The Association supported the 2009 tobacco control law, and has advised the FDA on using the law to shape public tobacco policy. "Dentists are the first line of defense in the war against oral cancer and many other tobacco-related diseases," the Association told the FDA in commenting on tobacco product regulation.
"As a matter of public health, we have become increasingly alarmed by recent attempts to market smokeless tobacco as a healthier (or less harmful) alternative to cigarettes," the Association's Oct. 9, 2009 statement said. "Smokeless tobacco is not a healthy alternative to cigarette smoking; both products pose health risks."
FDA issued the requirement for larger, graphic health warnings for cigarette packages and advertisements in a June 22, 2011 Federal Register document dense with analysis and research rejecting tobacco industry arguments against the proposal and explaining how and why these images and warnings will get public attention and reduce smoking-related disease and death.
An image the FDA describes as "cancerous lesion on lip" will illustrate a "WARNING: Cigarettes cause cancer" statement chosen, the agency said, for scoring high in focus group testing on emotional and cognitive reaction scales and a "difficult to look at" measure.
"First, 'cancerous lesion on lip' was the only image among the images proposed for use with this warning statement that had a positive impact on beliefs about the health risks of smoking and secondhand smoke exposure in one of the study samples (adults viewing a hypothetical advertisement)," the FDA said in the regulatory document.
"Furthermore, as is stated in several comments…the selected image 'cancerous lesion on lip' is likely to have particular relevance for youth. As explained in some of these comments, the research literature suggests that youth are likely to relate to and be susceptible to cigarette warnings depicting the negative short-term impacts of smoking on their personal appearance, including their lips and teeth.
"Several comments noted that the image could be especially effective with younger audiences and could positively influence such audiences by illustrating how the health effects caused by smoking negatively affect their physical appearance. The comments indicated that adolescents can relate to and will be susceptible to this message.
"We agree with these comments," the FDA said in responding to the comments on image effectiveness. "It is important to include content in the required warnings that is relevant to youth. The image 'cancerous lesion on lip' has the potential to positively impact youth behavior in addition to adult and young adult behavior."
The FDA disagreed with comments that the image was "too gross" to be effective and that oral cancer was an odd choice of cancers to depict in the graphic warning, noting that "the research literature indicates that images that evoke strong emotional reactions can promote greater awareness and better recollection of the health risks of smoking and can increase the likelihood smokers will reduce their smoking, make an attempt to quit, or quit altogether.
"Furthermore, the choice of cancers depicted in the required warning is appropriate and will help inform the public that cigarettes cause oral cancers and thus increase public awareness of the negative consequences of smoking."
The National Tobacco Quitline phone number, 1-800-QUIT-NOW, must accompany the nine new warnings.
Information for professionals and the public to assist in tobacco cessation efforts can be found on ADA.org.