Source:
Author:
Dad Tim Gallego feels like a new man after having his face rebuilt from different parts of his body. Financial adviser Tim, 46, had 16 operations to reshape his face after he was hit with disfiguring mouth cancer. Bones from his ribs and hips were used to form a new nose and jaw. Arteries from his legs were moved to his neck and skin from his wrists was grafted on to his lower face.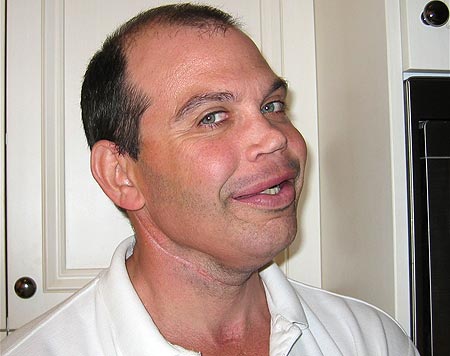 The father of three joked yesterday: "I seem to be running out of a supply of body parts. And because of the changes people I know don't recognise me.
"They just look at me and wonder what happened but the only people who actually come forward to to ask are young children."
Tim, supported by wife Katie, has now made a full recovery after his eight-year ordeal. He was unable to talk for a year and could not eat or drink for two weeks after one operation. He was first diagnosed when he went to his doctor with sinus problems.
Tests revealed he had a large tumour behind his nose. He underwent a 21-hour operation and his head ballooned to the size of a basketball.
Months of radiotherapy followed before he started the long process of rebuilding his face bit by bit. And within a week of being diagnosed Katie found out she was pregnant with their first child, Imogen.
Tim, from Poundbury, Dorset, said: "I looked like a monster but I've always been positive and believed I'd get back to normal. It's just that normal has ended up being a bit different."
"The radiotherapy made me feel sick as a dog. "But I was just so determined at that stage to
be well enough to look after Imogen."
He added: "It was only when I was well enough that I could actually understand just how sick I was, if that makes any sense."