As a result of a great company and their employees, at a second annual 5K run and two mile walk for Team Berry at a local event this year in South Carolina, their efforts have raised more than $2,900 which was donated to the Oral Cancer Foundation to be used for oral cancer research.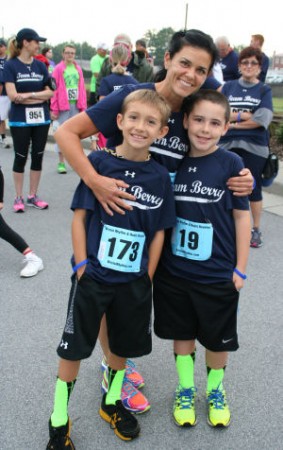 Sixty-four employees, spouses and children of Berry Home Centers and Berry Iron and Metal Company participated in the 5K and walk this year, more than double the participants last year, because the companies were running for a cause. Both were running for Jeremy Blevins, 42, who passed away Aug. 3 after a courageous battle with oral cancer, and his family. Jeremy is the nephew of Tom and Kyra Bishop who own Berry Home Centers and Berry Iron and Metal Company and also the nephew of Steve Kegley, Kyra's brother and manager of the Abingdon Berry Home Centers' store.
Berry's offered to donate $20 for every mile walked or run by employees in this year's race to the Oral Cancer Foundation in Jeremy's honor. Employees completed a 145.1 miles during the 5K and 2 mile walk, so Berry's donated $2,902 to the Oral Cancer Foundation as a result.
Jeremey Blevins wife, Shelley Blevins, pictured above with their son, Bise, and friend, is also coordinating the inaugural Oral Cancer Foundation Run For Awareness in Memory of Jeremy Blevins on Saturday, February 1, 2014. The event will take place at Springmaid Park located at Baxter Village. Please visit the event page at: http://donate.oralcancer.org/index.cfmfuseaction=donorDrive.event&eventID=583
In difficult times like these, when great individuals team up with great companies, great things can happen.